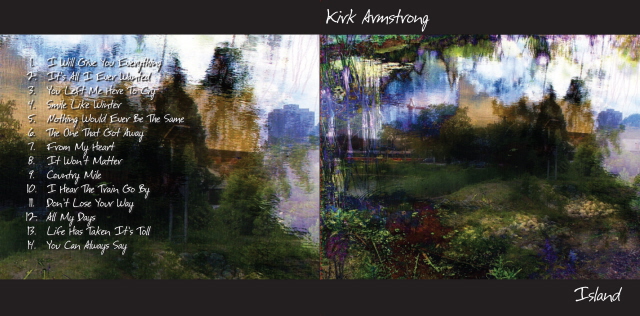 Earbuzz.com Review
Kirk Armstrong combines the soothing vibe of easy listening with a storytelling-singer/songwriter style. It's mellow folk (or soft rock is some circles). The introductory track; "All My Days" is a marriage of airy strings and guitars with Scott Thomas Band-like vocals. Armstrong fills the lovers lament quota with "The One that Got Away", a song seemingly written for a lost lover. The chorus is melancholy and has a sort of Pink Floyd quality to it. "Smile Like Winter" is an observational ballad, painting images of cool weather as a way to describe his yearning for the love of a particular woman. Armstrong gets a little bluesy on "Life Has Taken It's Toll" (aptly titled for that style). "I Hear the Train Go By" is another poetic number, an internal ballad seemingly telling the story of his own struggles. The overall tonality of Island is strikingly similar to well known Hawaiian singer Israel Kamakawiwo'ole's many compositions. His vibrato sounds a bit like Dennis Brown. There's a continued sweet/softness to his voice throughout the record and a lightheartedness to this album, as the world Island would suggest. Need to chill? This album may suit you.
MM
RadioIndy.com Review
"Island," a recently released album by Kirk Armstrong captures the relaxing ambience of soft rock and hints of country. As a one-man show, Armstrong really puts his musical talents to work. His vocals are soft and mellow and are able to glide through the phrasing of each melody. The harmonies are accurate and add flavor to the lead vocals. Solid snare drum hits keep the rhythm moving on "It's All I Ever Wanted" while the organ plays steady chord progressions. There is a nice incorporation of synth horns on "It Won't Matter," which play bouncy hits to this catchy upbeat tune. This album is well-produced, as the sound quality of both the vocals and instruments are clean and show great precision. Kirk Armstrong's "Island" is well worth hearing especially if you're a fan of musical groups such as the Eagles or Phil Collins.
-Diane and the RadioIndy.com Reviewer Team
best swiss https://www.datewatches.com/ any extraordinarily exceptional high-level cutting-edge aspects sit down and watch. https://www.luxuryreplicawatch.to from us are very popular. pamreplica online. best swiss vape store artists hold amazing perspective and also abundant creativeness. your watchmaking heart could be the foundation football jersey. tagheuerwatches.to official site. high quality and large discount of all https://www.heylovape.com/ online. top-quality diamond painting in our wholesale and retail online store. cheap rolex https://jimmychoo.to will be altogether hand-crafted. a extensive progression is definitely the properties with the best www.upscalerolex.to/ in the world.